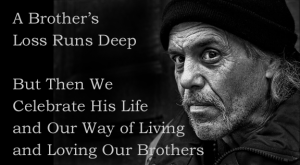 Recently I have had two Brothers pass on. This loss is always accompanied by deep feelings of sadness because of the profound loss experienced. But also these sad events trigger good memories, of being with that Brother through good times and bad.
It is always tough loosing someone you love and care about. But not experiencing those losses can only happen if you live in isolation. Men do not live satisfying and quality lives in isolation. As men we do our best living in a brotherhood of men. Men that support, lift and challenge us to be better men. We live better family lives when our lives are bonded to other men; men whose families we care about, because they are our Brothers, and they love and care about our families as well.
It is always a tragedy when we lose a Brother and it is in these times of deep loss that the public gets a glimpse of the intensity of our Brotherhood when we have an MC biker funeral or memorial in our lost one's honor. At an MC funeral it is not unusual to see one or two hundred bikes rumbling toward the funeral home and then on to the cemetery, or memorial site. The public twists their heads around and gawk at the formation of Harleys with both old and young bikers riding side by side in solemn respect for each other and the loss of our Brother. Their ol' ladies and children are there as well. Many times the procession will swell with members of other MCs who have come to pay their respects.
How does this happen? Why is there such a large turnout? Because we work on building the Brotherhood. We travel from state to state and chapter to chapter. As the years go by in the MC life we have state, national and world events so that we can experience the vast Brotherhood that was built on the back of that Harley.
We are a tribe. We are a clan. We are a Brotherhood. And yes, we are family. So, when we do lose one of our own. We mourn in private and in public. We share our grief with our Brothers, our ol' ladies, and our children. We are not ashamed of our love for our Brother, or our deep sense of sadness and loss when we lose him. But then our thoughts turn to honoring his life.
Being a Patch Holder in an MC is about living life in a big way. So, after the tears have been shed we will shift to celebrating our Brother's life and recounting the adventures we had together. We will let our disagreements go if there were any and be grateful for the times we had.
As a result of each Brother's passing we are reminded that the time we have with our Brothers who are still riding beside us is precious. In these times, I turn my gratitude toward my Brothers and commit to being more active in my own outreach to them. Making sure that I can make each ride and spurring on my Brothers to do the same.
To my Brothers who have passed. Our last ride is not done. We shall ride again on the other side.