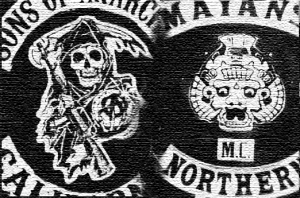 You are reading this and you have an interest in the MC world, so then you have probably seen or at least heard of the Sons of Anarchy TV show. Some hated it, and some loved it. Either way it is undeniable that the show had an effect on how the public sees our MC world. AND, for the most part, the world sees us being bad guys, everyone of us.
I look at the show the way I look at all media products about our MC world. They care about two things, making money and fame. They don't care about the truth or how their products affect real people, the many men, and their families who live in the MC world. They make entertaining shows that are designed to get an audience so that they can make money and make the producers and actors famous. Period.
The Sons of Anarchy TV show was a mixture of fact and fiction.  They got some things right and many things wrong.
Some things they got right… We ride motorcycles. We love each other. We love our club. The club is an extension of our family. We have our own rules. We don't take *** from anybody.
*** they got wrong. We don't let women run our clubs. We don't mix with cops. We don't go around looking for opportunities to shoot'm up. And, the list could go on.
When I saw the show, I thought to myself this is an old TV recipe. Basically, it is an old western TV show, but instead of riding horses the characters rode Harleys. Like the westerns there is a fist fight and a gun fight in every episode. They attempted to update the old-time shows by focusing on an antihero and making it a combination soap opera and cliffhanger so that you have to tune in next week to see what happens next.
Consequently, Harley sales went up. Now Harley sales are down. This makes me wonder if Harley urged the show's creator, Kurt Sutter to come up with a spinoff. Surely it is easy for Mr. Sutter to pitch a new show when they already have the Harley-Davidson Motorcycle company lined up ready to sponsor a new show along the same lines.
Now in August we will have the Mayans MC TV show. I'll hope for the best, but not expect much more from Hollywood than we got last time, some fact mixed with fiction that is in the end entertaining to the masses, lifts Harley sales and doesn't do much for the MC world.
I for one, would much rather see a show that is more based in the reality of the MC world like the movie, Mask which was released in 1985.
So, if you watch the upcoming Mayans MC TV show, watch it with these things in mind. Support your local MC.